Student Names: Aidan Ishii, Sherry Ma, Sissi Wu and Miranda Xu
Project Title: Fluid Design

Project Description:
What is design? Who defines, creates, and creates design?
As one of the groups to set up the "Design in Questions" installation, we were assigned to read "Designing Design," "Graphic Design: Now in Production," and "What does it mean to decolonize design?" and attempted to question our concerns towards design procedure. Each of us came up with 25 questions and a mind map towards the readings.
READ FULL BLOG POST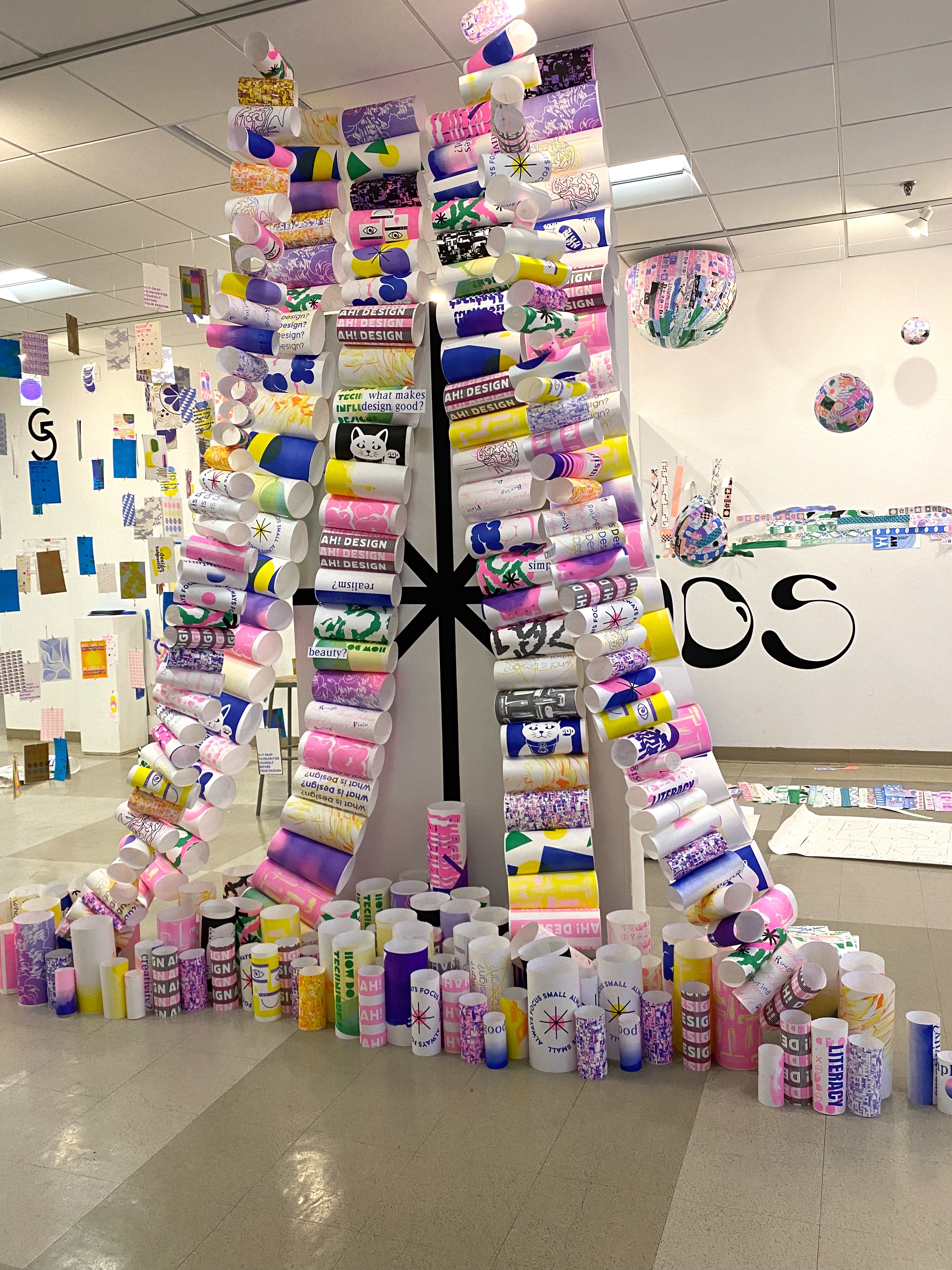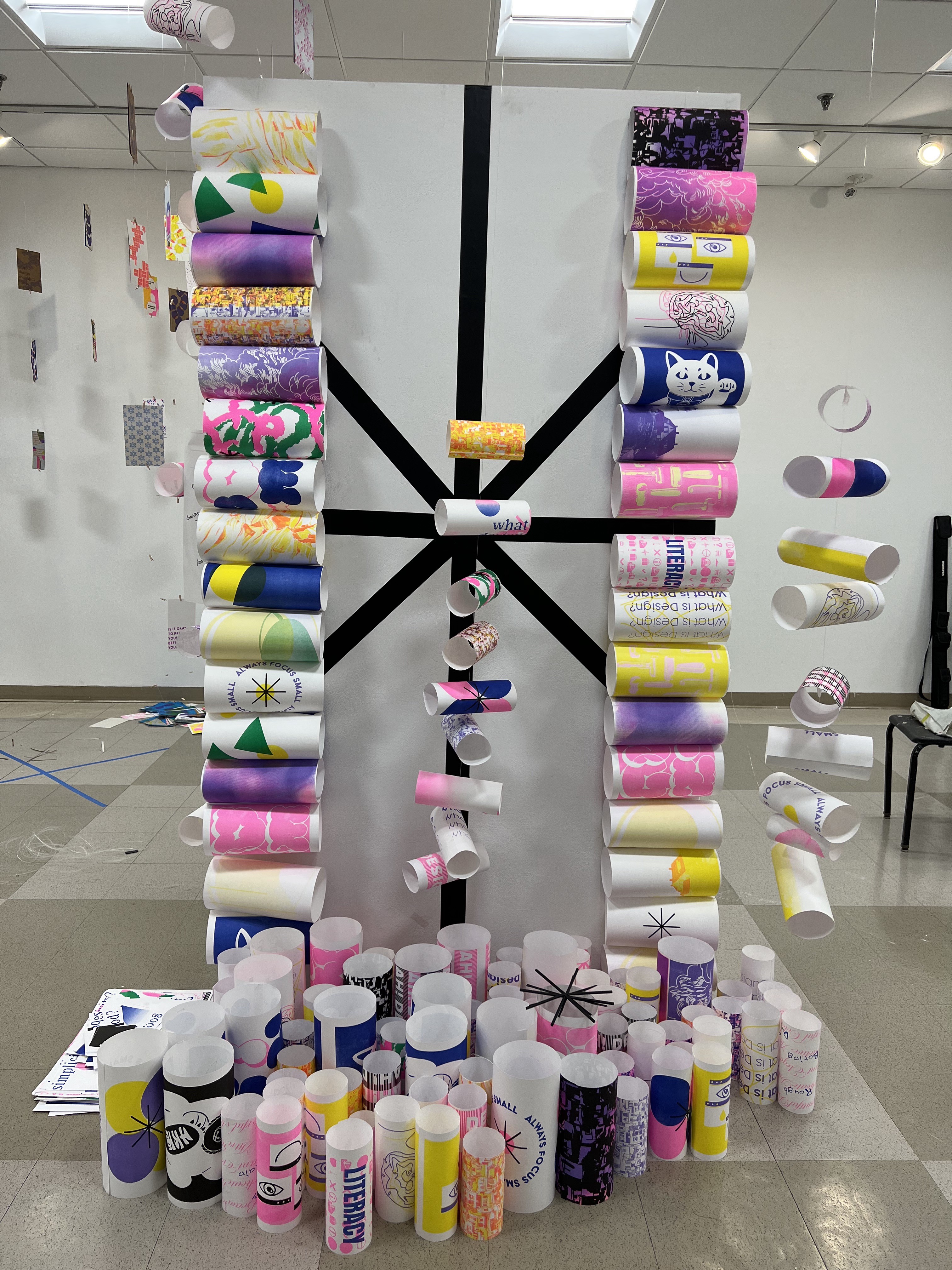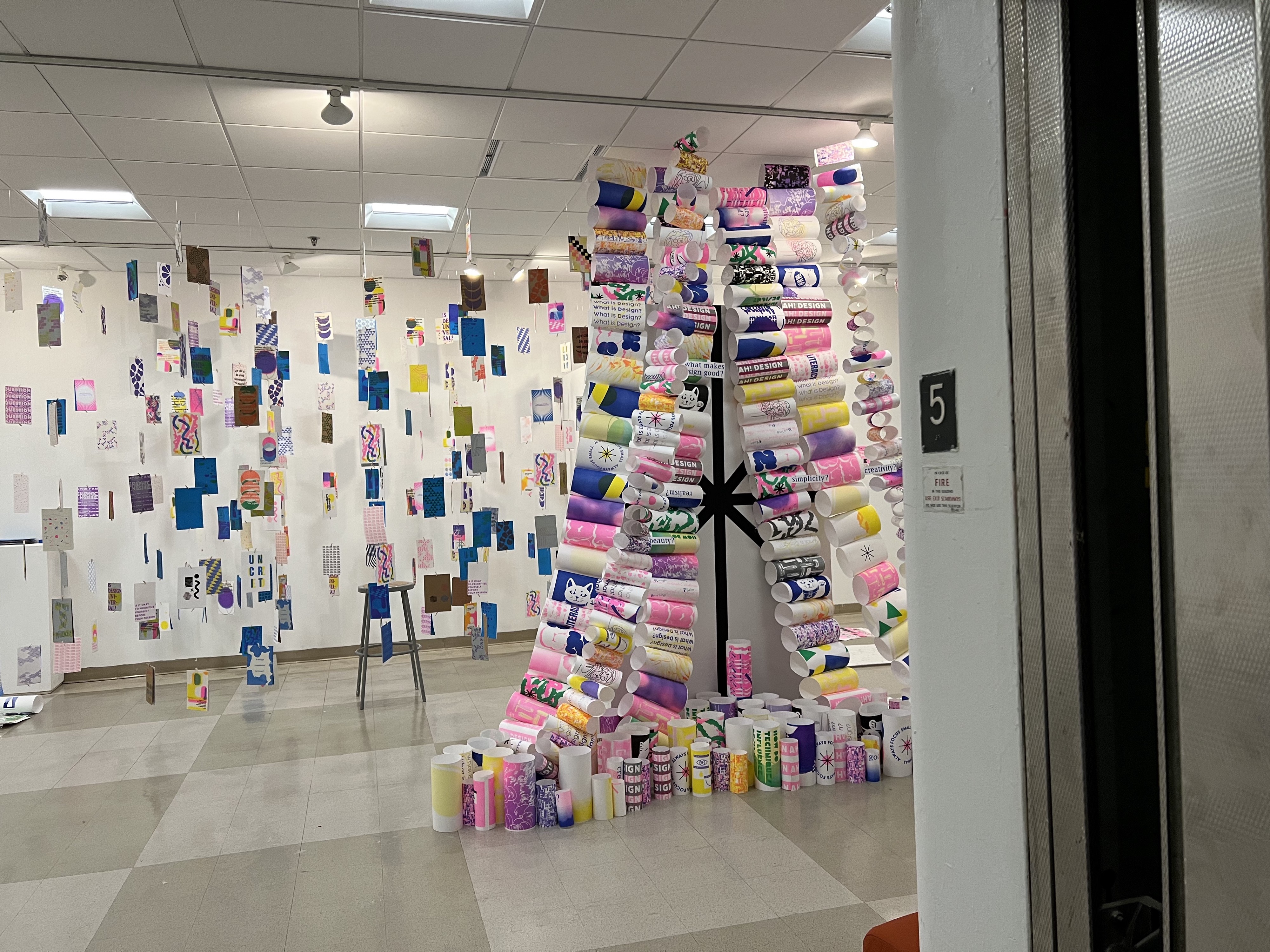 Student Names: Mei Asada, Cindy Chan, Tammie Kim, Fiona Wada-Gill
Project Title: Uncriticized

Project Description:
Throughout our experience in the design field, we have always been curious about what the next steps in graphic design might be. Establishing an identity within the workforce, traditional versus contemporary aspects to design, and how our background shapes us as designers are just a few of the considerations we had.
Uncriticized is a physical space to allow viewers to immerse themselves in a judgment-free zone. We ask questions about the future and the past of graphic design and used CMYK colors on the risograph printer to explore where the colors of print could take us.
READ FULL BLOG POST
Student Names: Kylie Carrol, Davide Bianchi, Jonathan Pincher, Clay Allen
Project Title: Direct Shot

Project Description:
Direct Shot
is an investigation of the process of design. Making as a process encapsulates both elements of rigid structure and unpredictable play. We highlight this disparity by inviting the audience to engage in the crafting of paper airplanes. Paper airplanes follow a fold pattern to complete a specific style of plane, this process parallels many traditional design environments where creators are expected to plan, implement, and fulfill a predetermined goal. On the other hand, paper airplanes are unpredictable in flight and emphasize the element of chance. The unforeseeable is a large influence in the design process, as designers must remain open to new ideas and remain resilient to any obstacles that accumulate along the way. To be a designer is to walk the line between the predetermined and the unknown. This harmony allows for the process itself to help shape the product, creating an end result that is maybe different but more effective than the original plan. We encourage you to engage with our exhibition and make your own paper airplane, aim for the target in the center and see where the experience takes you.
READ FULL BLOG POST
Student Names: Kara Chen, Geo Ferrari, Ashlie Dawkins, Katie So,
Jon Vogel
Project Title: Reflection

Project Description:
Reflection
is an exploration of foundations and finding a relationship between design and fine art and exploring how design can be more human, similar to traditional art, and if design and design processes can be definable.
In the beginning steps of the project, our group was formed in the middle of creating the first 25 iterations. From seeing each other's style during the 25 iterations critique, we realized how different our styles so we struggled with finding a cohesive visual language.
READ FULL BLOG POST